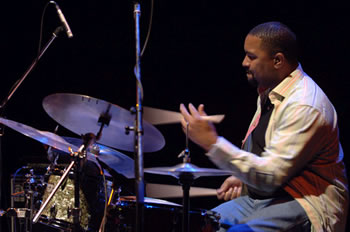 Thomas E. Taylor Jr. is an active freelance jazz drummer based out of Raleigh, North Carolina. He continues to grow as an artist by playing with local, regional, and national jazz musicians. View his upcoming schedule to catch him at a local jazz show.
In addition to live performances, Thomas Taylor is a seasoned university drum set and percussion professor and has a passion for inspiring students to perform their music with purpose. Interested students can visit the teaching page to view more details about private jazz lessons or music help on any instrument.
More information about the experiences that shaped Thomas E. Taylor Jr.'s music career can be found on the biography page.